Tuesday, March 26th, 2013 at 12:25 pm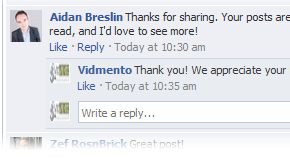 Facebook today roll out more changes for Pages & brands, with an option to opt in to a feature which will hopefully make it easier to have conversations on your page – their new Replies feature.
Basically this means that no longer will comments appear in a straight line below your original post. Once you turn on the feature, users can either Comment on your post, or Reply to a comment already there from another user, meaning that conversations will be much easier to follow.
Another facet of this new feature is that the most active conversations will appear higher up your page, the intention being that users see the most engaging conversations when they visit.
This will be particularly useful for pages which tend to attract a lot of comments. Previously when one comment refered to / answered another one away above it, I always thought made it difficult to follow the thread of a conversation. (For example, a post with 100+ comments, and near the end someone comments "I agree with John above" – it can be difficult to find John's comment above)
For now, the feature is only available on the desktop version, so mobile apps will not be included as yet. Also for now it's an optin feature (i.e. you can choose not to use it), but on 10th July it will be introduced to pages and brands across the network (and also profiles with more than 10,000 followers)
If you'd like a full description of the feature from Facebook, there, see here: New Facebook Replies Feature
Opting in is easy – next time you log into your Facebook page you will see the following graphic:

Just click "Turn on Replies", and that's it!