Thursday, May 16th, 2013 at 10:56 am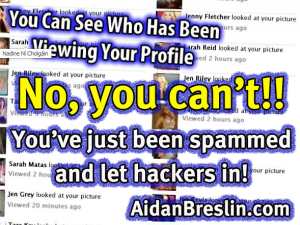 Just a quick one today, and it's only because I've got 3 of these in the last 2 days on my own Facebook profile (one from a business using a profile, but that's for another day!)
There are quite a few of these circulating claiming to let you know who's been looking at your Facebook profile.
Very tempting – Who's peeking in on your private life? Is your employer checking out your holiday pics? Is your ex checking up on you? Just give access to the app, or like, share and fill in your details here and you'll find out.
But do they work?
No, I'm afraid they don't – not one of them.
Even the ones that claim that all the other ones don't work but this one does. Even the ones which circulate when Facebook make a change / update (e.g. new timesline layout))
None of them work. Not a single one of them.
"OMG OMG OMG... I can't believe this actually works! Now you really can see who views your profile!!! WOAH"
Calm down there! – the reason for this is that Facebook don't make this page view data available to anyone. If someone does manage to figure out a workaround, it'll be short-lived and Facebook will shut it down fairly quickly.
What they do, however is get you to allow their app access to your Facebook profile so that it can post what they want there, which is probably not what you want. Or they get you to like and share their page, and fill in some of your personal details (On this be VERY careful on putting in your mobile number, as you could be signed up to a premium rate texting service and build up a hefty mobile bill fairly quickly)
So the first post it makes is a good old "See who's been viewing your Facebook Profile", usually tagging a number of your friends so it appears on their timelines, raises their curiosity, and on the cycle goes.
So if you see them, don't go there, they don't work
And if you have ever clicked on one, it may mean an app now has access to your Facebook profile and can post on your behalf. If you think this is the case, then you need to revoke the app's access – you can find instructions on how to do this here – Removing Facebook Apps
Hope it helps – feel free to share with anyone you think would like to know.
Have you had any bad experiences of allowing apps access to your Facebook profile? Let me know in the comments below